Core Pole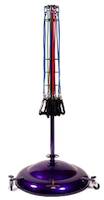 Royersford has a piece of of fitness equipment that currently is only found around New York City … the CorePole.
It's called the CorePole, but it works more than just your core! Designed like an old-fashioned May pole, it's a vertical pole with bands that pull from the center. The number of exercises you can do with the pole is endless, and so are the varying degrees of difficulty. In one seamless workout the Pole delivers the Big Fitness 4 – strength, cardio, flexibility, and stability – to multiple users simultaneously. The result is full body conditioning that is truly stronger than the sum of the parts. The CorePole can be used in conjunction with chairs, balance balls, poles, yoga mats, small balls, Bosu balls, and great imaginations. In essence, balance and stability work combined with large movement patterns in a group setting is unique and fun.
Moving around the CorePole allows the participant to train in a multi-planar environment and this helps the body become stronger and move efficiently in every day activities. Because of the constant changing of positions and the resistance used with the bands during a class, people experience true functional fitness. This means that seniors who are having trouble balance learn to use the core to help with stability in a functional way. Those who are recovering from back pain learn to use the core to stabilize and strengthen their back. The CorePole is very age-friendly.
Professional sports teams, the Dallas cheerleaders, and pilates professionals also incorporate sports-specific conditioning drills and exercises in CorePole classes. By changing the workout these athletes affect their muscles differently by creating muscle confusion which breaks plateaus they experience. The versatility allows integration of functional movement in different way to challenge muscle groups and reach optimum levels of fitness.